Search our site




Loading

Questions ?
Call us at 905-624-5536

H.H. Roberts Machinery Limited:




1324 Matheson Blvd E., Mississauga, Ontario, Canada. L4W-2Z7, Fax 905-624-9065



HTD Belts
Timing Belts
GT Belts
Vari-Speed belts for mill heads
Poly-V belts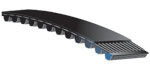 We have an assortment of HTD belts, GT belts and timing belts in stock
| | | |
| --- | --- | --- |
| HTD | GT | Timing |
| Variable Speed | Poly-V | Banded or Multi-V |


We are preparing a listing of the belts we have in stock and will be filling in the tables below as we go.

These belts are available for pickup at our parts desk.
We have an excellent wholesaler nearby that can give us just about any
size on 2 hours notice.


Timing Belts

240L037
150L050
187L050
210L050
260L050
270L050
300L050
345L050
367L050
390L050
450L050
150L075
187L075

HTD and GT Belts

8mm wide belts
440-5GT-9
440-5M-9
450-5M-9
500-5M-9
570-5MR-9
600-5M-9
700-5M-9
740-5M-9
15mm wide belts
400-5M-15
410-5M-15
420-5M-15
425-5M-15
450-5M-15
460-5M-15
520-5M-15
800-5M-15
860-5M-15
860-5GT-15
1050-5M-15
19mm wide belts
0.78" wide belts
475-5M-19
520-5M-19
535-5M-19
565-5M-19
600-5M-19
6555-5M-19
770-5GT-19
25mm wide belts
1"
375-5M-25
400-5M-25
410-5M-25
425-5M-25
450-5M-25
475-5M-25
500-5M-25
530-5M-25
535-5M-25
540-5M-25
565-5M-25
675-RRP5-25
700-5M-25
740-5M-25
740-RRP-25
800-5M-25
830-5M-25
960-5M-25
32mm wide
770-GT5-32
35mm wide
770-GT5-35
40mm wide
900-GT5-40
50mm wide
770-5GT-50
800-5GT-50
810-5GT-50
815-5GT-50
960-5GT-50
MORE LISTINGS TO COME