Questions ?
Call us at 905-624-5536

H.H. Roberts Machinery Limited

1324 Matheson Blvd E., Mississauga, Ontario, Canada. L4W-2Z7, Fax 905-624-9065

Yang SL12 CNC Lathe:
with Gang Tooling or Turret Tooling Systems
1.4" bar capacity
With: bar feed, collet chuck, 3 jaw chuck, extra tooling plate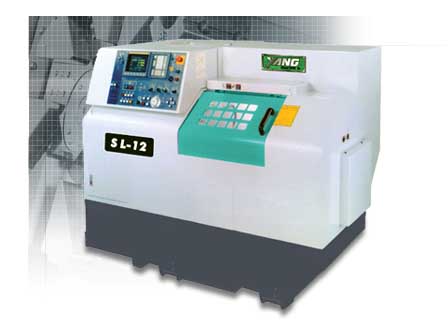 In stock with short bar magazine bar feeder and ready for work !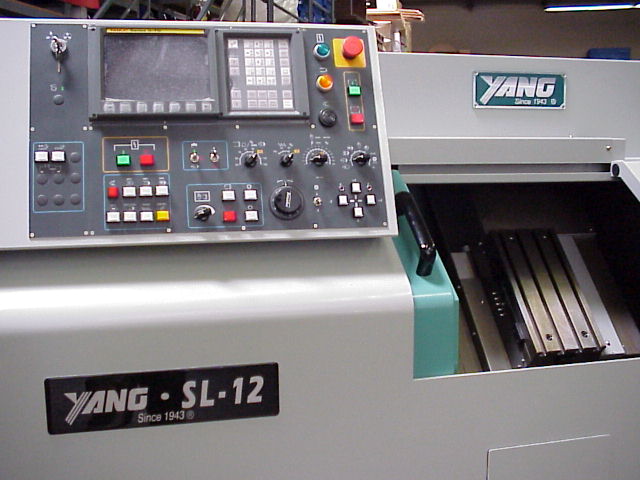 Above and below are photos of the SL-12 in it's gang tooling version.
The machine can be supplied in a traditional automatic turret version.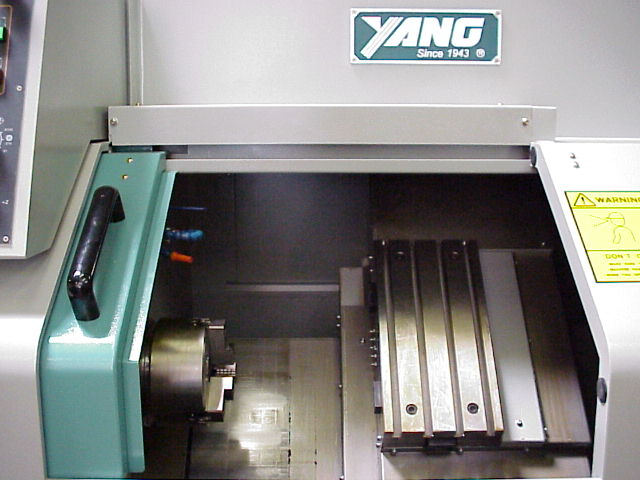 This model is normally available for fast delivery with the Fanuc 0i - Mate control with Gang Tooling or Turret Tooling.


Engineered triangular headstock with wide base lowers machine center of gravity and creates increased rigidity.


The precise heavy-duty turret with a quick indexing mechanism offers ideal cutting performance.


The SL-20 and 30 include a standard hydraulic tailstock that allows manual pressure adjustment and programmable quill extend / retract.


The high quality fine grained cast iron base incorporates a 45 slant bed design and guarantees the overall machine stability, vibration dampening and long term accuracy.


The large chip area, combined with the slant bed design and fully enclosed splashguards, optimizes coolant circulation, chip disposal and overall safety.

ITEM
SPECIFICATION

SL-12

Work
Capacity
Swing over bed

Ø330mm ( Ø13" )

Tooling Style

Gang Tooling
Version

Turret
Version

Swing over side

Ø136mm (Ø5.4")

Ø135mm (Ø5.3")

Max. machining diameter

Ø135mm (Ø5.3")

Ø128mm (Ø5.0")

Max. machining length

150mm (5.9)

130mm (5.1)

Machine
Body
Slant angle of bed

45˚

Max. travel range
X-axis

230mm (9.1)

107mm (4.2)

Z-axis

230mm (9.1)

230mm (9.1)

Servo motor

X-axis 1.4 KW

Z-axis 1.4 KW

Rapid traverse rate each axis

X-axis 30m/min

Z-axis 30m/min

Spindle
Diameter of spindle front bearing bore

Ø80mm ( Ø3.2" )

Spindle bore


Ø45mm ( Ø1.8" )

Draw bar bore

Ø35mm ( Ø1.4" )

Spindle nose type

ASA A2-5

Taper of spindle bore

1/20

Spindle drive motor

5.5 / 7.5 KW (7.5 / 10 HP)

Max Spindle speed

6000 rpm (STD)

Diameter of chuck
Standard

6" hydraulic (Tonfou)

Optional

6" hydraulic (KITAGAWA)

Gang and
Turret Tools
Type

Gang type

Turret

No. of tools

6 pcs

8 pcs

Tool shank post

16 × 16 ( 5/8" × 5/8")

16 × 16 ( 5/8" × 5/8")

Boring diameter post

Ø2mm5 / 2 pcs
(Ø1" / 2 pcs)

Ø25mm / 4 pcs
(Ø1"/ 4 pcs)

Radial tool post

16 × 16mm
( 5/8" × 5/8" ) 1 pcs

-

Axial tool post

16 × 16mm
( 5/8" × 5/8" ) 2 pcs

-

Dual tool post

16 × 16mm
( 5/8" × 5/8" ) 1 pcs

-

Other
Motors
Coolant motor

215 W ( 1/4 HP)

Hydraulic motor

745 W (1 HP)

Chip conveyor motor

215 W (1/4 HP)

Misc
Power requirement

208-220V/ 50 Amps / 3 Phase

Height from floor to spindle

900 (35.4)

Height form bed to spindle center

255 (10)

Floor area (L × W ×)

1990 × 1885 × 1538 (78.3 × 47× 60.5)

Net weight Approx.

1720 kgs (3784 Ibs)

Gross weight Approx.

2170 kgs (4774 Ibs)