Questions ?
Call us at 905-624-5536

H.H. Roberts Machinery Limited

1324 Matheson Blvd E., Mississauga, Ontario, Canada. L4W-2Z7, Fax 905-624-9065
Just arrived. Still needs cleanup SOLD


Used Topwell 5-GL CNC Knee Mill with Anilam 1100 Control
16" x 32" travels, 10 x 50 table, coolant, power draw bar.
Electronic variable speed RG head max spindle speed: 6000 rpm
Spindle speed control from the CNC.


Used Topwell 5-VK CNC Knee Mill with Anilam Control
This machine needs a CNC upgrade to a Fagor, Acu-Rite or new Anilam
The machine frame is in excellent condition.
The head can be upgraded to the electronic variable speed GL head
our appologies for a lousy picture.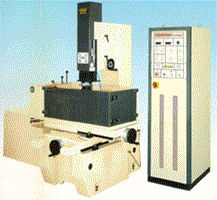 Maximart V-45 EDM sinker

with factory original spark generator and
US made Racon spark generator
brand new tank / filter assembly
catalog page 1
catalog page 2
Meca 250 ( 10") 4th axis
with Fanuc motor and 3 jaw chuck.