Questions ?
Call us at 905-624-5536

H.H. Roberts Machinery Limited

:


1324 Matheson Blvd E., Mississauga, Ontario, Canada. L4W-2Z7, Fax 905-624-9065



Replacement Milling Machine Heads.

Available for 220/1/60, 220/3/60 or 460/3/60 power supply
and can be interfaced to most CNC controls for programmable spindle speeds
Replacement heads for Bridgeport, Topwell, First, Kent, Supermax and most other Taiwan made Bridgeport clones. If the T-sot in the ram on your machine has a 6" c/l diameter, these should fit.

The variable speed head has a 3 Hp motor, speeds from 60 to 4200.
The 3S head has 8 speeds available through belt changing.
Both heads are availabe with R-8, # 30 or # 40 taper spindles.
We will be stocking the VS version with R-8 and # 40 taper spindles.


Replacement head on an old Brigdeport


variable speed head
8 or 16 speed head
Quill diameter
85.725 mm
3 3/8"
Quill travel
127 mm
5"
Spindle motor
3 HP
Spindle taper
R8 Optionally .#-30 or Cat-V 40
Quill power feeds
0.0381, 0.0762, 0.152 mm / Rev.
Spindle speeds
60 - 4200 rpm
for a 6,000 rpm head see
our Inverter Heads
60 - 2750 8 speed
optionally 80 - 5,440 16 speed
Getting a #40 spindle into a Bridgeport size quill
This presents an interesting dilema for a machine tool builde. An R-8 spindle has a hole through it to take the 7/16" diameter drawbar. A #40 drawbar is 5/8". If you bore out the spindle to get the 5/8" drawbar through it you get very thin walls left and rigidity is seriously compromised .... when half the reason for wanting #40 is to gain rigidity.

Our solution is to stay with the 7/16" drawbar, but make a special adaptor like a machining
centre pull stud that accepts the 7/16" drawbar at the top and a Cat-V-40 tool thread on the bottom.
This leaves the full wall thickness of the spindle. The adaptor can be seen on the right in the photo below. On the left is a drawbar, adaptor and a Cat-V-40 CNC collet chuck on the left. The special draw bar is available with a hex top for manual tightening or splined for a power draw bar.

Then Topwell adds a third high precision P4 bearing at the bottom of the spindle
to improve cutting performance. .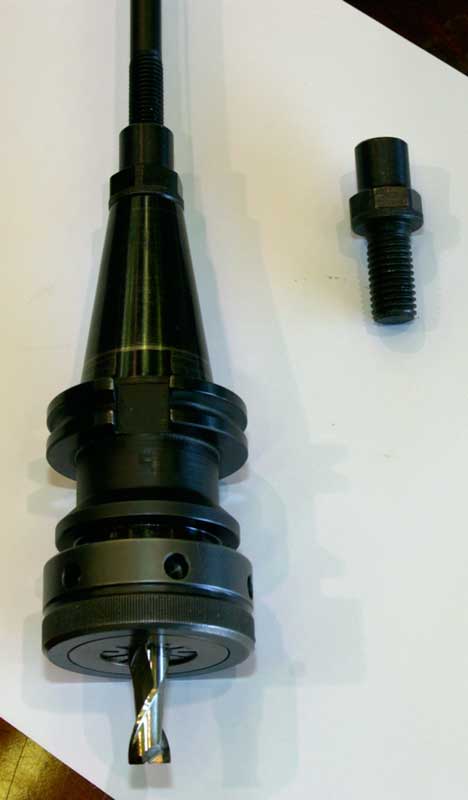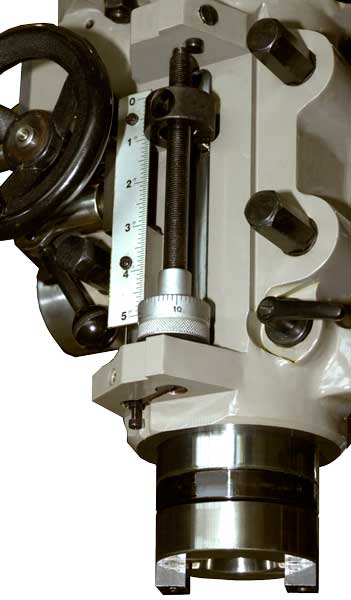 The two pictures below show the standard bearings on an R-8 Bridgeport
type machine on the right. And on the left the 4 bearing set up of Topwell's
# 40 spindle upgrade. You can see that there are 2 precision bearings at the
bottom or the R-8 spindle and a set of 3 precision bearings on the #40 spindle.
Both spindles have a standard bearing up at the top.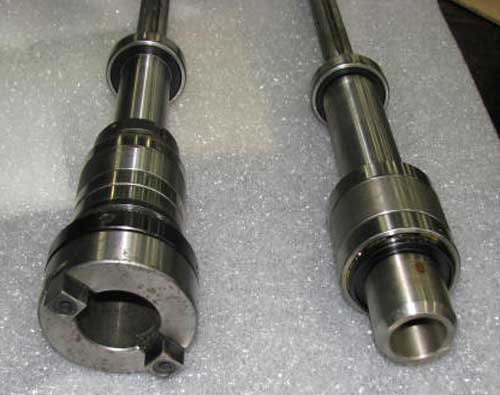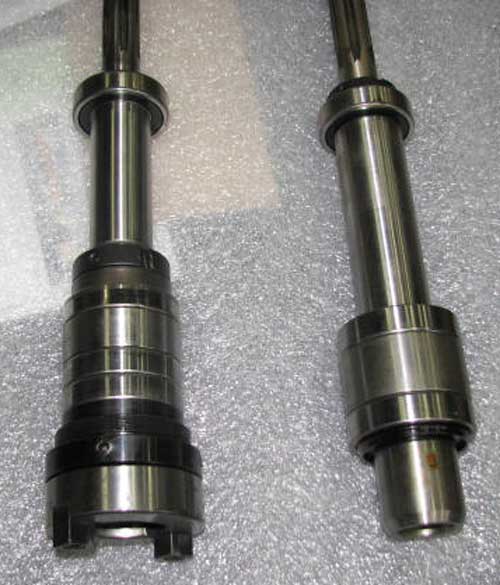 adaptor Drawings and Photos

Bridgeport sized head

H-D #40 taper head